Jeremy Goldstrich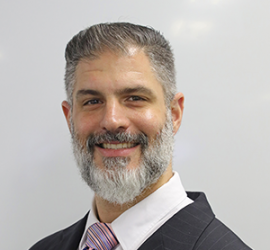 Jeremy Goldstrich has served as Corporate Executive Vice President and Chief Operating Officer since 2016. He is responsible for all Airport Operations including security and safety across Kansai International Airport, Itami Airport and Kobe Airport all under the Management of Kansai Airports.
In the aviation security field, Mr. Goldstrich has introduced new security technologies under the Smart Security concept at KIX. He has taken the initiative to improve customer satisfaction by creating a culture that applies the "Security as Service" concept as security well know as the most stressful part of the passenger journey. Security as Service is the combination of infrastructure such as Smart Lanes to improve ease of use and passenger flow, monitoring and distribution of congestion status to keep passengers and the airport community informed as well as training and approach of inspection staff to focus on high efficiency with a service touch.
From 1999 to 2016 Mr. Goldstrich served in various positions including Technology Planning Management, Ramp and Customs Clearance Senior Manager and Managing Director of Ground Operations for 10 years with FedEx Express Japan. Mr. Goldstrich has a Bachelors Degrees in both Japanese and Economics from Arizona State University.