Roberto Castiglioni
Chair, Heathrow Access Advisory Group, Heathrow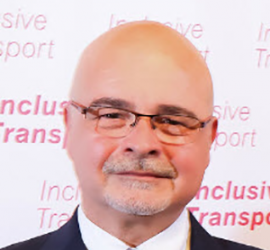 Roberto is a globally known accessible air travel expert and has been a member of the UK Civil Aviation Authority Access Panel since 2012.
In his capacity as accessible air travel expert he has worked with National Enforcement Bodies across Europe and on projects for the European Parliament and the European Commission. He is the only independent accessible to air travel expert the European Commission invited to participate the meetings of European National Enforcement Bodies of 2015, 2017, and 2018.
Roberto is member of the Easyjet Special Assistance Advisory Group since 2012. He is Chair of the Airport Experience working group of ESAAG, and, since 2015, he is Chair of the Ageing Population and PRMs track at Passenger Terminal Conference. From September 2017 to July 2019 Roberto Chaired the Heathrow Access Advisory Group.
Roberto provides cutting edge consulting services to airlines, airports and PRM service providers aimed at improving quality of service output whilst driving efficiencies.