Corporación Quiport announces expansion plan for Quito Airport
Corporación Quiport, the concessionaire of Quito's airport services, has announced an expansion and improvement plan at the Mariscal Sucre International Airport which will take place between 2017 and 2020.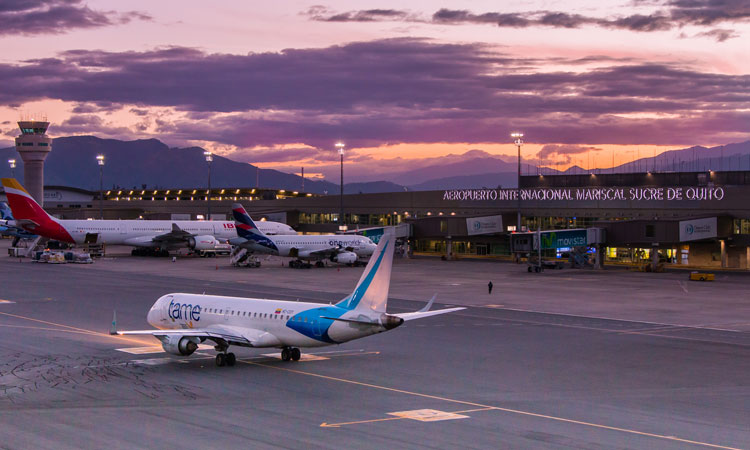 The plan for this expansion involves nine projects structured around three key areas – investment, service and development – and aims at improving airport processes for the benefit of passengers, users and companies requiring them.
Investment for the expansion and improvement plan amounts to US$90 million distributed as follows: US$60 million for expansion and US$30 million for improvements.
The expansion project – given a US$60 million investment – is focused on extending the airport's operating capacity considering its service standards and is in keeping with the contractual obligations under the Master Plan for Airport Development approved by the Municipality of Quito. It comprises infrastructure construction and is to be carried out in four main areas:
Expansion of cargo platform delivered in 2018, which included the construction of one additional aircraft parking spot, thus improving the capacity to process imports and exports from the Mariscal Sucre Airport.
Expansion of apron parking area for the Ground Service Equipment allowing better operation of aeronautical services. This was also completed in early 2018.
Extension of the passenger terminal by 18 per cent.

21 per cent enhancement of processing area, including installation of six additional self-check-in kiosks and improvement of immigration area by 34 per cent and customs area by 13 per cent.
The departures area will be expanded by 3,200m2, thus resulting in 19 per cent increased capacity of the boarding lounge, including an additional boarding gate and an additional boarding bridge.

Expansion of commercial platform for passengers with construction of 11,215m2 and an additional aircraft parking spot.
Quiport is additionally carrying out improvements including reconfiguration of areas to optimise the operation and to enhance the passenger experience. With a US$30 million investment, this plan includes five projects, three of which were delivered in 2017, as follows:
Expansion and remodelling of the international VIP lounge, with broad areas designed for working, resting, entertainment and fine eating.
Implementation of concourse area to facilitate connections of in-transit passengers.
Sidewalk and landscaping project, beautifying the airport with gardens, green areas thus providing a feeling of identity to visitors.
The following will be delivered by 2020:
Reconfiguration of the departures hall by relocating the information counter to a position with better visibility at the centre of the hall. Some of the shops will be relocated, resulting in an optimised use of the space. New finishings and new floors will also be placed to modernise the area.
Reconfiguration of arrivals area to increase its capacity. A sixth baggage belt will be installed in order to optimise suitcase delivery and to provide more comfort to travellers. 
At a press conference held in Quito to announce the project, Jessica Alomía, Undersecretary of Air Transport of the Ministry of Transport and Public Works, said: "Quito's airport is one of the main catalysts of development – it generates employment, tourism, trade, and this in turn is translated into many jobs and many opportunities for Ecuadorian families. These great achievements drive us to continue working for air connectivity, tourism and trade."
For the Secretary of Productive Development and Competitiveness of the Municipality of Quito, Álvaro Maldonado, the project of the Mariscal Sucre Airport "is a model and a successful case of public-private partnership. There are very few cases of this magnitude in Latin America. I want to emphasise that this is an absolutely winning project with an interesting future. It is a case study for the region and it is indeed an excellent presentation letter for our investment attraction strategy, now complemented by the national government with a policy of economic development, that goes hand in hand with the private sector and investors."
The General Director of Civil Aviation, Carlos Álvarez Mantilla, explained: "Quiport has presented today a project that includes the construction of infrastructure and equipment to expand the operational capacity of the airport which will undoubtedly boost the economic, social and therefore tourism development of Quito and Ecuador."
For his part, the President of the Association of Representatives of Airlines in Ecuador (ARLAE), Marco Subía, commented: "It is the first time in my life, in all the experience I have in aviation, that I have seen so many airlines arrive in the country. That means that something is being done correctly on behalf of the Municipality, the central government, the Directorate of Civil Aviation, the Ministry of Transport, the Quito airport… something is being done well and we must continue in that fashion".
He continued: "The airlines are very happy with this news, with this growth that facilitates the operation. We have always worked hand in hand with all the authorities, the Municipality and Corporación Quiport. The airlines are very pleased with this good news."
Andrew O'Brian, President and Director General of Corporación Quiport, explained: "Our main objective is to develop our connectivity by strategically working hand-in-hand with municipal and national authorities to attract more airlines and to open more destinations making us the most successful public-private partnership model in Ecuador. Thanks to our work aiming at tourist promotion, Quito and Ecuador have become a hot destination.  The airport expansion results in the arrival of many new flights. Quiport and the city are ready to receive the world."
With the expansion and improvements plan approved by the Municipality of Quito, Corporación Quiport exceeds its contractual expectations and raises its service levels by investing in improvements that will enrich the passenger experience. Thus, Corporación Quiport complies with its commitment of offering first-class infrastructure that will further connectivity growth in the city and in the country.