Manchester Airport invests £12 million in ground-breaking luggage screening technology
Passengers will soon feel the benefit of more improvements to airport security after a £12 million investment in new high-speed passenger luggage screening x-ray technology…
Passengers will soon feel the benefit of more improvements to airport security after a £12 million investment in new high-speed passenger luggage screening x-ray technology developed by Rapiscan Systems.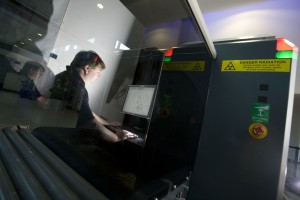 The airport first tested Real Time Tomography, or RTT, in 2009 as part of its continued investment programme – including the installation of Rapiscan Systems' body scanners – that is dedicated to improving security and providing a better experience for passengers.
Installation of the new RTT machines is expected to begin in Spring 2012 with the project completed by Autumn 2012.
RTT is designed to generate extremely high-resolution 3-D X-ray images of passenger baggage at far higher speeds and greater reliability than any other technology currently available. As a result, RTT significantly improves detection of potential threats to aviation security, reduces delays in baggage handling, increases the efficiency of airport operations and improves the overall experience of airport customers.
Manchester Airport has worked with Rapiscan Systems, a leading UK-based supplier of security inspection systems whose engineering and manufacturing facilities are located in Congleton, Cheshire, and Salfords in Surrey, on a number of security developments with RTT being the latest deal.
Andrew Harrison, Managing Director, Manchester Airport, said: "Our order for the RTT technology is the latest innovative development in our approach to aviation security both in terms of improving customer service and managing potential threats. We have worked closely with Rapiscan on the development of the RTT including its trial at Manchester Airport in 2009. With its revolutionary design and unprecedented performance, Rapiscan's RTT will help us to maintain our reputation as one of Europe's most passenger friendly airports."
The RTT system works unlike other systems on the marketplace. Thanks to its innovative fixed gantry design, the RTT captures images of baggage at significantly faster speeds than the existing baggage screening technologies and with higher resolution and lower anticipated maintenance costs.
RTT is also designed to lower the airport's overall cost of ownership because it can be integrated with an airport's high-speed baggage handling system and can accommodate significant increases in baggage handling volumes as airport usage grows over time.
Rapiscan Systems' President, Ajay Mehra, said: "We appreciate that Manchester Airports Group has selected the RTT and look forward to supporting their continued initiatives to improve airport security and efficiency. Our next generation CT system, the RTT, allows airports to meet current and upcoming screening standards with dramatically lower overall infrastructure costs."
Related airports
Related people