3rd annual CBRNe SUMMIT EUROPE
Intelligence-Sec's leading CBRNe Summit Europe conference and exhibition is just 2 months away. Do not miss out on being part of Europe's largest gathering of CBRNe experts from across EMEA and the US…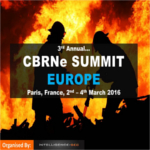 Early bird expiry dates – 31st January 2016 Book before the end of the month to receive a discounted price off the registration fee.
Intelligence-Sec's leading CBRNe Summit Europe conference and exhibition is just 2 months away. Do not miss out on being part of Europe's largest gathering of CBRNe experts from across EMEA and the US.
CBRNe Summit Europe is the only CBRNe related event in Europe officially supported by the NATO Joint CBRN Defence Centre of Excellence who provide input in the agenda and invite senior officials to participate. The Scientific Partner for the event is The Observatory on Security and CBRNe Defence – OSDIFE.
Taking place in Paris this year will allow you to meet with leading officials from the French Government, Law Enforcement Agencies and Emergency Services who have had to respond to a series of terrorist attacks in the last year. Being part of our international event will provide you unrivalled access to first responders who have been on the frontline dealing with terrorist attacks.
You will have the opportunity to hear presentations from the following officials during the two day conference:
Wolfgang Rudischhauser, Director, WMD, NATO
Colonel Denis Josse, Head of the Pharmaceutical Services and Advisor on CBRN and Toxicological Risks Management, Alpes-Maritimes Fire and Rescue Services, SDIS06, France
Colonel Jiri Gajdos, Director, NATO JCBRN Defence Centre of Excellence
Lieutenant Colonel Fabrice Jean, CBRN National Expert for Directorate General of Civil Security and Crisis Management, Ministry of Interior, France
Lieutenant Colonel Ladislava Navratilova, Scientist and Chemical Expert, Fire Rescue Service, Ministry of Interior, Czech Republic
Captain Olivier Rousseau, Head, Joint CBRN Sector, Ministry of Defence, Belgium
Inspector Mark Roberts, Emergency Planning Division, Police Service of Northern Ireland
Dr. Alexander Grabowski, Director – Protection, Decontamination and Water Treatment, Bundeswehr Research Institute for Protective Technologies and NBC Protection, Germany
Dr. Cornelius Bartels, Senior Expert Bioterrorism, European Centre for Disease Prevention and Control (ECDC)
Lyudmila G. Simeonova, Head of CBRN Department, Fire Safety and Civil Protection Chief Directorate, Ministry of Interior, Bulgaria
Robert Henstridge, Operational Scientist, DSTL
Dr. Rob Orford, Principal Public Health Scientist, Public Health England
Prof. Giorgi Nabakhtiani, Head of the First Division, Department for Nuclear and Radiation Safety, Georgian Ministry of Protection of Environment and Natural Resources
Running alongside our conference will be an exhibition full of leading CBRNe vendors showcasing their latest products and technologies:

One the 4th March 2016, there will be two associated workshops focusing on "CBRN Intelligence" and "Multifunctional Remote Controlled Systems Combating IED/EOD & CBRNe Threats"
How to register
Please contact Intelligence-Sec either by email or telephone and one of their sales representatives can register your attendance today
Complete their Delegate Booking Form using this link
Email: [email protected]
Telephone: +44 (0)1582 346 706
Website: www.intelligence-sec.com
Related topics
Related regions