JFK welcomes pilot programme to reduce diesel emissions
John F. Kennedy International Airport has recently launched a 60-day pilot programme for the use of a battery-driven ground power unit (eGPU), which aims to reduce diesel emissions.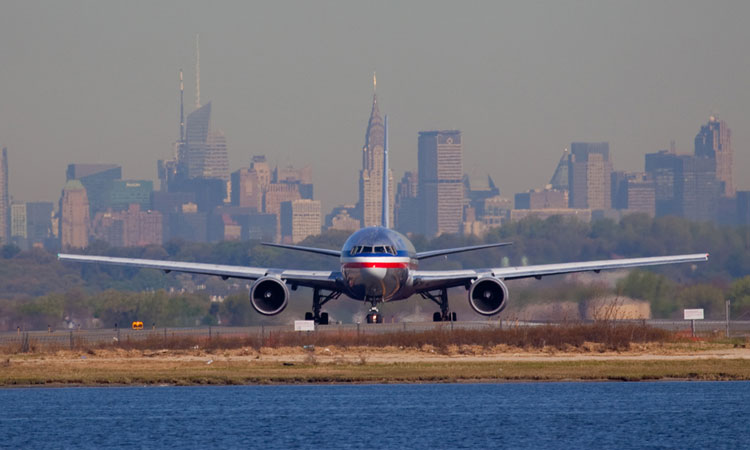 JFK International Air Terminal LLC (JFKIAT), the operator of Terminal 4 (T4) at John F. Kennedy International Airport (JFK), recently launched a 60-day pilot for the use of a battery-driven ground power unit (eGPU) provided by ITW GSE, a leading manufacturer of ground support equipment for the aviation industry. ITW GSE, in partnership with Royal Schiphol Group, developed the 180kVA eGPU unit which can support widebody and jumbo aircraft.
The new trial programme introduces battery-driven ground power units for aircraft at T4 as an alternative to diesel powered GPUs. At a typical gate GPU is powered by the grid, but aircraft parked at hardstands require portable GPUs which are traditionally powered by diesel. The eGPU is a more sustainable alternative to diesel-powered GPUs. Large capacity eGPU units are especially suited for jumbo aircraft, which require higher battery capacity. According to ITW, exchanging only one diesel GPU with an eGPU reduces carbon dioxide emissions by 90 per cent and nitrogen oxide emissions by 95 per cent. This innovative technology will cut more than 190,000 lbs of CO2 emissions per year at T4.
"Sustainability is a core pillar of JFKIAT's mission, and as the largest terminal at JFK Airport undergoing a significant expansion, it is critical that we continuously evolve our operations to foster a sustainable environment," said Roel Huinink, President and CEO of JFKIAT. "This programme supports JFKIAT's goals to drastically reduce greenhouse gas emissions, and we are proud to collaborate with ITW GSE to introduce this innovative technology to Terminal 4."
"At ITW GSE our vision is to supply the global aviation industry with the cleanest, most reliable and most cost efficient GSE systems," said Alberto Rocha, Sales Director of The Americas at ITW GSE. "With a complete family of battery driven eGPU's that cover all aircraft needs we can finally say we are on the way to a greener aviation industry."
Sustainability is a key pillar for JFKIAT, and through its comprehensive sustainability programme, it continues investing in initiatives focused on energy efficiency, water conservation, waste management, indoor environmental quality, and innovation. The company is committed to leading the industry by reducing T4's carbon footprint and operating a sustainable and healthy facility. JFKIAT's strategy is centered on operational efficiency, environmental stewardship, economic stability, and a commitment to providing an exceptional experience for customers and employees. Among the company's notable accolades in this area is its recognition as the first existing airport terminal in the U.S. to receive LEED Gold certification by the U.S. Green Building Council (USGBC) for operations and maintenance.