Gilles Lévêque
Chief Information Officer of Groupe ADP
Gilles Lévêque is Groupe ADP (aka: Aéroports de Paris) Chief Information Officer.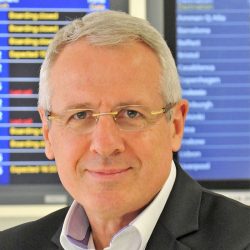 Gilles graduated in civil engineering. He joined Arthur Andersen Consulting in 1988 where he had the opportunity to work for the 1992 winter Olympics games organization committee in Albertville. Then, Gilles joined Hewlett-Packard where he held several positions in France and the United States, both in the management of information systems and supply chain operations. In 2006 Gilles joined Geodis, a world leading supply chain & logistics management company, as Group CIO.
Since 2015, Gilles is Groupe ADP CIO, leading the information systems teams to sustain ADP operational excellence as well as spurring ADP's customer centric digital transformation.
Gilles is also a board of directors' member of CIGREF (French large companies association), EGIDIUM (Safety) and HOLOGARDE (Drone detection ad neutralization).
Related organisations
Related people