Are airports ready for 'Baby Boomers'?
The segment of our population with the highest disposable income isn't immune from ageing and the next generation of over 65s represents an unmissable opportunity for the air travel industry. Roberto Castiglioni, member of the UK CAA Access to Air Travel Advisory Group and Chair of the easyJet Special Assistance Advisory Group (ESAAG), assesses whether airports are ready to meet the needs of the 'Baby Boomers' and the challenges this market presents.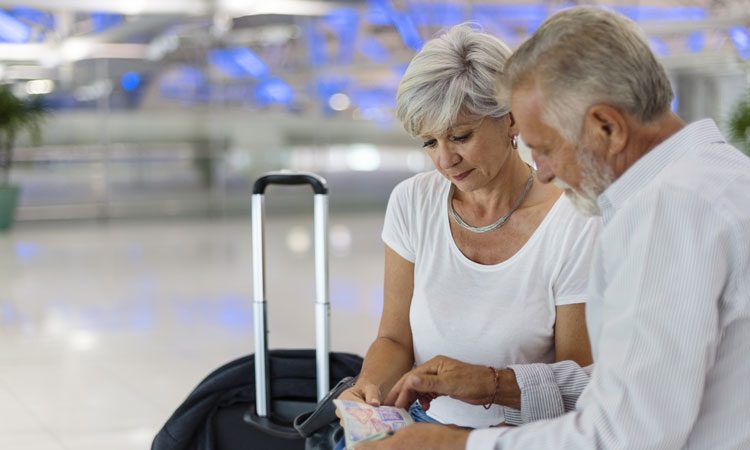 Understanding the challenge
As the regular Chair of the Ageing Population and PRMs track at the Passenger Terminal Conference, I often say that if an airport is able to properly cater for people with special needs it is ready to exploit the full potential of the over 65s.
To view the issue in a useful way, it is helpful to understand that there is no such thing as a disabled person, rather a person who is confronted by a disabling environment.
With this simple concept in mind we can focus our attention on what needs to be addressed in order to make an airport fully accessible.
Let's briefly look at hearing loss. This condition affects five percent of the world's population – meaning one in 20 of us struggle to hear. This 'one in 20' statistic may sound like a marginal issue, but translating this data into hard numbers illustrates the full scope of the challenge: An airport with 20 million passengers per year will cater to one million people suffering from hearing loss in that time.
There are simple, yet effective ways to meet the needs of people suffering from hearing loss, none of which require human input. Assistive technology, such as hearing loops and speech to text captioning, are the most common solutions to transform the passenger experience of millions.
'Universal Design' at the heart of the airport for everyone
'Universal Design' is the natural evolution of 'Accessible Design' – a design process that addresses the needs of people with physical, sensory, and hidden conditions.
Universal Design goes further by recognising that there is an endless variety of individual abilities. Everyone passes through childhood, temporary illness, injury, and old age. By putting human diversity into context, Universal Design creates an environment that is easier for all people to use.
Universal Design considers the full range of human diversity, including physical, perceptual, and cognitive abilities, as well as different body sizes and shapes.
Guidelines to build a 'Baby Boomer'-friendly airport
In general, a well-designed, efficient airport layout that minimises travel distances for passengers is likely to be the most accessible and convenient one for everyone to use. The layout should enable passengers to quickly identify the service they require.
A simple layout that is easy to understand for a wide range of users is particularly beneficial in large airport terminals. Users may include older people; people with special needs; foreign visitors; people with visual difficulties; or those who might be easily confused.
Movement through areas of the airport should be as direct as possible and in a logical sequence, with adequate space for the expected number of people to avoid congestion. Wherever pedestrian access routes are provided to link adjacent external areas, they should be under cover.
A universally designed path of travel should be provided to link all external facilities, including building entrances, train stations, bus stops, taxi stands, parking lots, and drop-off points. The route should also link directly to pavements at the perimeter of the terminal building to facilitate convenient access for pedestrians.
All airport terminals and concourses should provide adequate seating areas, because waiting is inevitable. Seating should be provided in all main waiting locations and near refreshment facilities, toilets and travel information stands.
One size doesn't fit all
Facilities and concessions must also meet accessibility standards. For example, where luggage deposit facilities are provided, they should be accessible to people of different standing heights, as well as those seated in wheelchairs. If the facilities include banks of coin-operated lockers, they should be provided at a range of heights. Locks and key fobs should contrast visually with the locker door and be easy to operate. Any coding system should be easy to follow and include large tactile letters or digits and have simple, clearly visible instructions.
Accessible toilet facilities in airport terminals and concourses should be accessible from the same concourse level. They should also be located as close as possible to departure and arrival gates or transfer desks to allow people to access them immediately before boarding and on disembarking the aircraft.
The overall arrangement of toilet facilities and the size of cubicles should acknowledge the increased likelihood that people will have luggage or shopping bags, and parents and carers may need to keep children under close supervision by sharing a cubicle. It is advisable to provide toilets with facilities for assisted changing.
All toilet facilities should be equipped with a public-address system so that people are alerted to important information and alarm cords that alert others in case of need.
Information is King
Everyone needs information to enable them to plan their journey. Timetables, journey times, availability of facilities and last-minute updates should all be available in a range of formats – both visual and audible.
Clear, concise, accurate and timely information is crucial to people making journeys. For passengers with mobility impairments, quality information can mean the difference between being able to make a journey or not.
Essential information – particularly safety instructions – should be easy to find, and should not be obscured by advertising. Last-minute updates should always be accessible and available in real-time.
Delays in travel schedules are annoying for everyone but can cause real difficulties for people with disabilities, parents with young children, and people with certain medical conditions. Inside airport terminals, information relating to delays and cancellations or to change of departure gates should be delivered in an audible manner to all parts of the building, in addition to the visual displays in the main areas.
Consideration should be given to the time allowed between connecting flights so that everybody has time to transfer from one location to another in a dignified manner. Where there are long travel distances between boarding gates, buggy-type transport, moving walkways, and low-floor buses should be provided to assist people with mobility difficulties, as appropriate.
On arrival at the destination, details of connecting services (including rail, bus, taxi, and private transfers) and other relevant local information should be readily available.
Is your airport ready to meet the challenge?
There is an easy way to learn if your airport is ready to accommodate the needs of 'Baby Boomers'. Print out the set of guidelines in this article and take a walk through the main Terminal building crosschecking your infrastructure with the guidelines. Hopefully you will find that you are ready to meet the needs of the wealthiest segment of travellers. If not, you will easily be able to spot those areas that need improvement. Regardless of the outcome of your audit, you are now one step closer to making your airport the ideal user-friendly infrastructure for all.
Biography
In the last few years Roberto Castiglioni has worked with the UK Civil Aviation Authority (UK CAA) on intelligence, policy and compliance. He has also provided consulting services to several airlines, airports and PRM service providers to improve access to air travel for disabled people. Roberto has been a member of the UK CAA Access to Air Travel Advisory Group since December 2012 and the easyJet Special Assistance Advisory Group since May 2012.