Bordeaux Airport invests and upgrades to handle increasing passenger traffic
The year 2019 has already seen a 13 per cent growth in traffic at Bordeaux Airport, and so improved infrastructure and processes have been deemed essential for the future.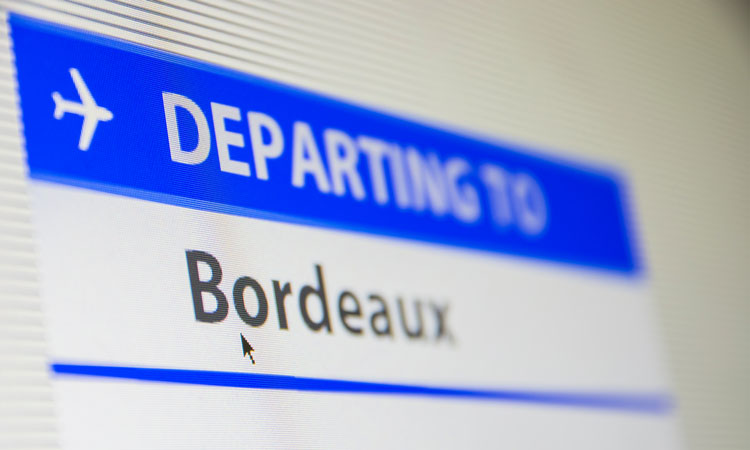 Bordeaux Airport reached the seven million passenger milestone in November 2019: A record number of passengers for the airport, which has once again seen an increase of one million passengers in less than two years.
With continuous growth over the past 10 years, Bordeaux Airport's traffic is driven by the development of its network, offering 112 destinations in 2019 during the summer peak, compared to 38 10 years ago.
These routes are operated by 34 airlines, including five new comers in 2019: Air Canada, Finnair, Laudamotion, Nouvelair and Ural Airlines.
The year 2019 has already seen a 13 per cent growth, which is largely boosted by international flights. These account for more than half of the passenger numbers, representing a growth of 19.3 per cent and 4,250,000 passengers. This year, the direct flight network includes 162 routes – 46 new flight operations.
Bordeaux's connection with international hubs grows stronger
With more than 13 international connecting platforms providing worldwide access, travelling to and from Bordeaux has become ever more efficient.
The major international connecting airports which are accessible from Bordeaux are a considerable driving force behind this success, accounting for 76 per cent of international traffic, especially to long-haul destinations, whose potential increased by more than 10 per cent in 2019. These destinations are served by 11 network companies including Air France, British Airlines, Lufthansa, Swiss, Turkish Airlines and Royal Air Maroc.
This new record is underpinned by the traffic of 13 low-cost airlines, including the major ones in Bordeaux which are easyJet, Ryanair and Volotea, all three of which have bases in Bordeaux with a total of 11 aircraft.
The development plan moving into 2020
Moving forward, the winter 2019/20 programme is expected to grow tremendously in terms of offer and frequency, with an average of over 77 weekly frequencies.
Regarding 2020 and future opportunities, Bordeaux is actively seeking airline partners and developers for long-haul destinations. Given the constant expanding passenger numbers and demand to/from Asia and the U.S., the airport is strongly convinced that as the market recovers from the present delay faced by airlines in their single-aisle new aircraft deliveries, the expected performances of this new equipment will create new opportunities for Bordeaux.
New investments
As part of the 2023 investment plan, Bordeaux Airport is launching major new projects that will enhance development and boost its positive economic impact in its area of influence in the coming years.
From 6.8 million passengers in 2018, Bordeaux Airport expects to be welcoming 10 million a year by 2023. Prospects of a fast-growing air transport network have led the airport company to launch a €140 million investment plan for the 2018-2023 period. The major projects in the plan will be shaping the new face of the airport: Capacity, comfort, accessibility and better integration within its local territory.
The airport investment programme involves the construction of several major infrastructure projects, including three dedicated to handling passengers: The new 'Satellite 3' international jetty in Hall A, the extension and complete reconfiguration of the low-cost terminal billi, and a large junction terminal between Halls A and B, which will complete the plan in 2023.
New infrastructure projects
2019 marked the launch of several of the airport's new construction projects. As part of this project running through to 2021, when the entirely-redesigned low-cost terminal will be opened, work started on terminal billi in spring 2019 with an interim project to extend and automate the whole hold-luggage handling process: Drop-off, check-in, conveying and screening.
The construction of the new 'Satellite 3' international jetty was launched in April 2019, with the target completion date set for summer 2020. Built with the general objective of increasing the capacity and efficiency of international passenger flow through Hall A with border checks, the new building should allow simultaneous transfer of passengers from its four departure lounges and of passengers landing towards the checkpoints, with an annual capacity of 2.5 to three million people.
In preparation for its construction, a project to expand and modernise the controlled-access zone for departures from Hall A was undertaken. Since summer 2019, it has offered an increase in passenger-processing capacity by 40 per cent from its current level. During this winter, there will also be work on the renovation and extension of airport pavement surfaces facing the future jetty to create two additional aircraft stands, increasing the number of simultaneous aircraft stopovers that can be handled in this area to five and bringing the total number of aircraft stands to 35.
Outside the investment scope of the airport company, the programme for the future '45th Parallel' service-sector and hotel park, has just seen construction start on its first phase, with work on site for preparation, roads and networks.
As part of the reconstruction of the range of car park facilities, the first expansion phase of the 'P4' long-term car park was delivered in Q1 2019. In front of the terminals, the entirely-renovated P1/P2 car parks offer a much higher standard of services. This includes a dynamic display of available parking spaces, automatic opening for season-ticket holders and online bookings on entry and exit, and sheltered pedestrian walkways with redesigned signposting. These services arrived a few months after the introduction of free charging stations for electric vehicles.
Finally, while work to clear the route for a new tram line began in 2018, the projects under the airport's accessibility improvement plan entered a more active phase. To open routes for the Technobus in the end of 2019 and the tram in 2022, the work to reroute utility networks and modify road networks in front of the terminals will be taking place in H2 2019.
As many of these projects near completion, more begin as Bordeaux Airport endeavours to upgrade and improve for it's future passengers. This is demonstrated below, with the yellow areas displaying Project 1 – Parking facilities (2018 – 2019); purple areas displaying Project 2 – Hall A (2019 – 2020); red areas displaying Project 3 – billi (2018 – 2021); blue areas displaying Project 4 – 45th Parallel (2019 – 2020); orange areas displaying Project 5 – Accessibility (2019 – 2022); and green areas displaying Project 6 – Junction building between Halls A & B (2021 – 2023).
Related airports
Related regions