Airport IT & Airport Security 2016: Event Preview
27 July 2016 • Author(s): International Airport Review
Join more than 100 airports from around the world at this year's co-hosted Airport IT & Airport Security event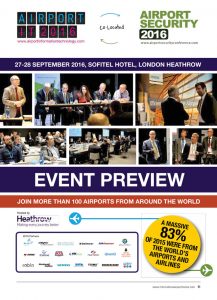 Hosted by Heathrow Airport, this year's event takes place on 27-28 September 2016 at Heathrow's Sofitel Hotel.
As well as attracting more than 100 airports from around the world, the event will feature speakers at the cutting edge of their fields, including Heads of IT and Security, plus leading associations and academics.
There will be new and exciting networking opportunities, including interactive breakfast briefings, intimate lunches and opportunities to meet the speakers during the 'Runway Experience'.
Bigger and better than ever, the exhibition will be filled with the latest technology and services to enhance your event experience.
Find out about all this, and more, in our event preview.